The Rotary Foundation is the charitable arm of Rotary International that promotes world understanding through international humanitarian service programs and educational and cultural exchanges. It is supported solely by voluntary contributions from Rotarians and others who share its vision of a better world. Since 1947, the Foundation has awarded more than US$3 billion in humanitarian and educational grants, which are initiated and administered by local Rotary clubs and districts. These grants empower Rotarians to approach challenges such as poverty, illiteracy, and malnutrition with sustainable solutions that leave a lasting impact.
This year we celebrate 100 years of "Doing good in the World." The Foundation was created in 1917 by Rotary International's sixth president, Arch C. Klumph, as an endowment fund for Rotary for the purpose of doing good in the world. Since the first donation of $26.50 in 1917, the Foundation has grown to more than $1 billion in assets. Just recently, the Rotary Foundation received the honor of being named the 2016 Outstanding Foundation by the Association of Fundraising Professionals (AFP). "While almost everyone is familiar with Rotary, not everyone may realize just how much an impact Rotary and the Rotary Foundation have had on countless people and communities across the globe," said AFP President and CEO Jason Lee." To learn more about this award and Rotary's Centennial Celebration, visit the following links.
Press Release - Rotary Foundation Named World's Outstanding Foundation for 2016
Join Rotary's Centennial Celebration through June 2017
Make a gift to the Rotary Foundation
One of the Foundation's major humanitarian programs is PolioPlus. The End Polio Now campaign seeks to eradicate the polio virus worldwide. Rotary members and community activists have been persevering in this fight since 1979 and have now helped eradicate the disease in all but two countries worldwide?. These efforts to eradicate polio have been described as one of the finest humanitarian projects the world has ever known and Rotary has even been nominated for the Nobel Peace Prize. The eradication of polio when completed will be one of the most significant achievements in public health since the eradication of smallpox. And, WE are THIS CLOSE.
Additionaly, through its Educational Programs, the Foundation provides funding for some 1,200 students to study abroad each year. Grants are also awarded to university teachers to teach in developing countries and for exchanges of business and professional people. Former participants in the Foundation's programs have the opportunity to continue their affiliation with Rotary as Foundation Alumni.
| | | |
| --- | --- | --- |
| | | |
| In February 2009, The Rotary Club of Key Largo sponsored Interact Member and Coral Shores High School Sr, Anna Holmbraker, to travel to India for Immunization Days. | | A child receives a polio vaccination from Anna Holmbraker through the Rotary Foundation Polio Plus project. |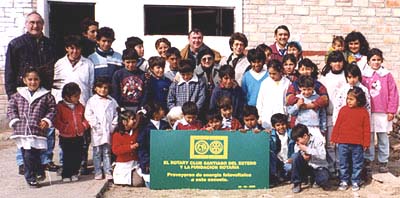 A Matching Grant from the Rotary Foundation provided solar energy for three rural
schools near Santiago del Estero, Argentina.
To learn more about Rotary's efforts to eradicate Polio see below.